GOODRIDGE FLUID TRANSFER PERFORMANCE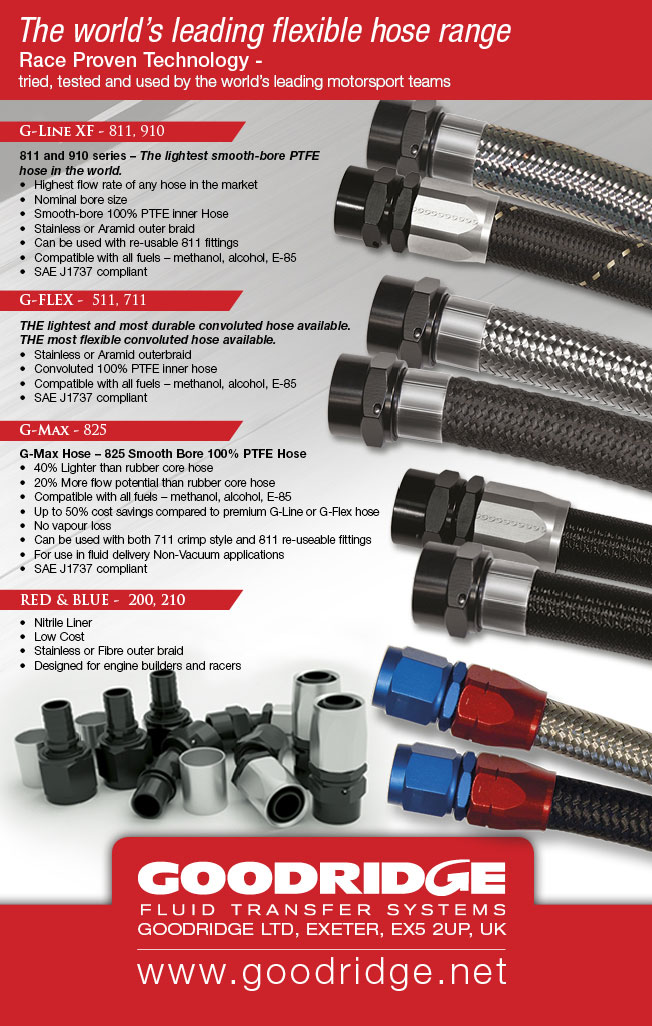 Goodridge is the world's leading manufacturer of performance fluid transfer systems. It operates in the OEM, automotive, motorcycle, motorsport, defence and specialist industrial sectors.
THIS DYNAMIC private company manufactures in ten facilities globally and supplies customers around the world with a unique combination of design,innovation, reliability and outstanding service. Goodridge has a turnover of over £35million with 100+ staff in Exeter and 350+ worldwide.
Goodridge is currently celebrating another successful year by continuing to innovate its product portfolio, which has seen their core market grow to include oil and fuel lines, the Phantom range, the Shadow (Gold and Glow in the Dark) range, Build-a-Line™, and the recently launched product of new G-Line hose and fittings – the lightest hose range in the world.  Goodridge offer much more than just brake line kits!
The World's premium and Number 1 brake line supplier for the last 45 years are now looking to establish the same position in all its market sectors. This has been achieved foremost in their OEM sector where their knowledge and experience having established contracts with Aston Martin, Jaguar, Lexus, Pagani, Goodridge has successfully transferred to the Motorcycle sector also, supplying BMW, Triumph, Polaris, Yamaha and Victory Motorcycles.
Success has come not only to Goodridge but also by association to the teams they have sponsored in 2013. Aston Martin Racing had a podium position in the Le Man 24 hour GTE Pro class and FIA Endurance Trophy for GTE Am Drivers.
For 2014 Goodridge joined with Aston Martin Racing for the World Endurance Championship and Le Mans. Goodridge are also a new Sponsor and continuing Technical Partnership with M Sport Ltd supplying Ford Fiesta Rally Programmes, development work on the new Bentley GT3 Race Car, as well as supplying customer requirements in all levels of motorsport from the club level to Formula 1.
"A WINNING TEAM – GOODRIDGE AND YOU."
FIND GOODRIDGE ON FACEBOOK HERE
More info?: